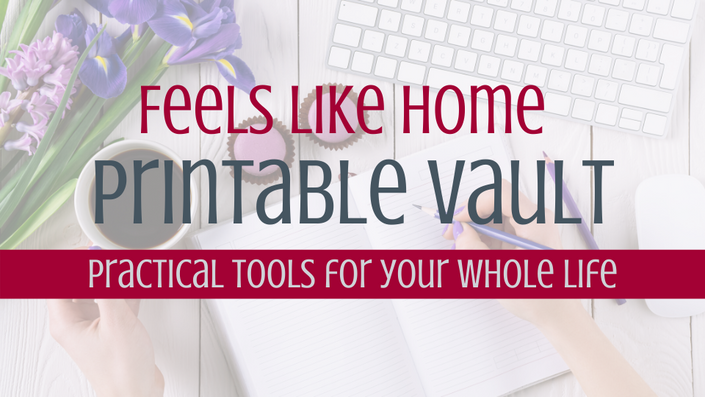 Feels Like Home Printable Vault
Practical Tools for your Whole Life
Are you ready to simplify every area of your life with printables that are clean and functional?
I'm here for you! Introducing my newest printable collection:
The Feels Like Home Printable Vault!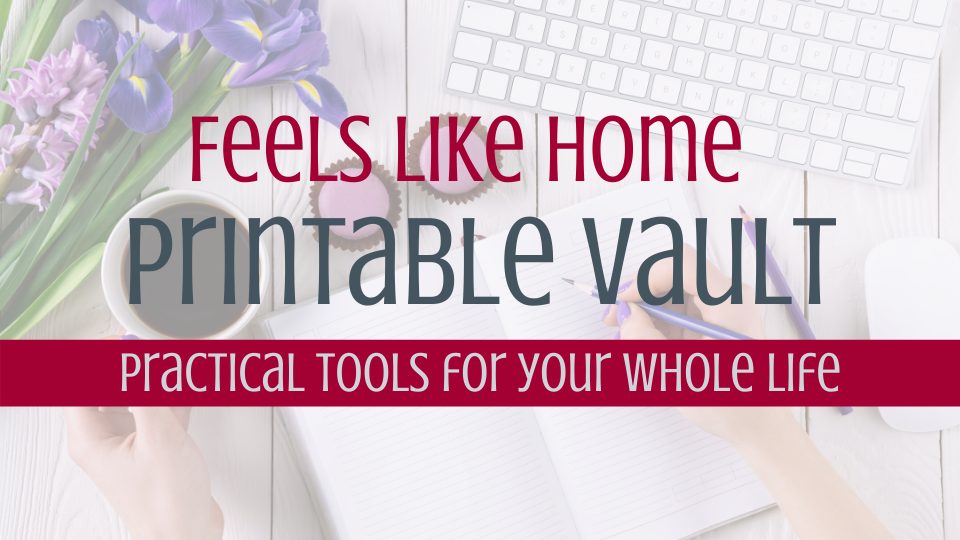 This Printable Vault is the ULTIMATE collection of incredibly practical resources for your busy life. There's something here for every single area of your home and family life!
And the best part?
The FLH Printable Vault is a living collection of resources, meaning that I am continually creating and adding new printables to the collection! You can even request specific printables to be created for you!
The FLH Printable Vault is one single purchase with lifetime access - you get everything in the vault today as well as everything I EVER ADD in the future!
Are you ready to get it together, finally, for good, with the FLH Printable Vault?
The Feels Like Home Printable Vault includes everything you need to get your family and spiritual life together for good! With these printables, you'll be able to:
Study the Bible on a daily basis!
Memorize scripture the quick and easy way!
Rest easy in your identity as a blessed daughter of The King!
Gather a simple collection of your family's favorite recipes to pull from when you –
Meal plan like a boss, every week!
Host the tastiest - and easiest - Thanksgiving and Christmas meals you've ever imagined!
Use what you have instead of always needing to buy something new!
Talk to your kids anytime - and never run out of things to say!
Have an endless list of fun family activities lined up!
Plan your entire summer to make the most of the time with your kids - and preserve your own sanity in the process!
Empower your kids to entertain themselves when there's no school!
Reconnect with your husband!
Write love letters to him to remind both of you why you fell in love in the first place!
Quickly print memorable and super fun scavenger hunts for your kids on major holidays!
Live a stress-free life!
Plan your days, weeks, months, and years to maximize your productivity and plan time for rest and self-care!
And there is seriously SO MUCH MORE
PLUS you can always request new printables to be added to the collection at any time!
Valued at over $500, with even more printables being added on a regular basis, you can get lifetime access to this entire collection for just $49.99!
Are you ready to get organized, for good?
Your Instructor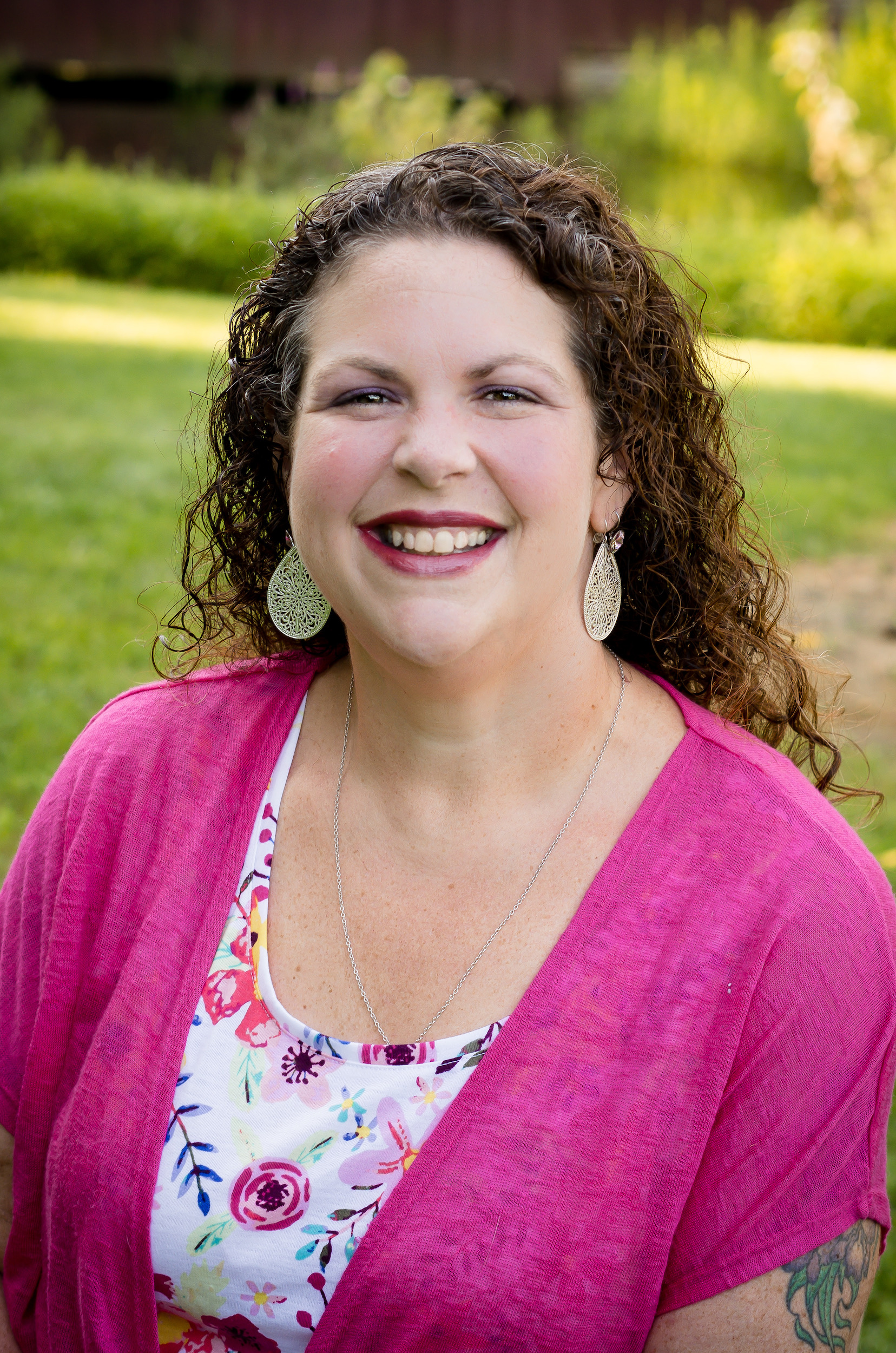 I'm Tara Ziegmont, and I help busy Christian moms to create mentally, physically, and spiritually healthy lifestyles so that they can guide their families with grace and gusto. I founded the Feels Like Home Blog in 2007, and I know I'm right where I belong.
HuffPoLive called me a parenting expert, but you know what I really am? I'm a wife and a mom and an entrepreneur and an employee, and I feel like a hot mess most of the time. I'm juggling too much, and I drop things now and then. Can you relate?
Even though I may feel like a mess, the world sees me as Super Tara. I'm thinking it's the same for you; you may feel like a mess too, but you're doing a pretty darn good job of holding the fraying world together. Friend, I see you. You are welcome here.
I write twice a week on Feels Like Home Blog about topics that matter most to busy Christian moms. I help with Bible study and prayer; I help with family fun; I help with food and recipes; I help with inspiration for hobbies and crafts. It's about living a life with grace and gusto, a life fully embraced, a life worth living. I desperately want all that and more for you. Come alongside me and enjoy the ride.
Printable Vault includes over 500 printable pages including 5 full-color, full-length ebooks, my mega marriage toolkit, every single one of my published positive affirmations packages, and hundreds of individual pages covering all these topics:
Christian faith (21 resources), including topical Bible verse lists and beautiful Bible verse graphics
Food & meal planning (6 resources), including my recipe binder and the beautiful and practical ebook, Coffee Filters to Cheese Graters: Creative Ways to Use Just About Everything
Family & parenting (16 resources), including seasonal family bucket lists, a family games collection, and the Intentional Summer Planner for Moms 2020
Printables for kids (11 resources), including both of my most popular kids' card packs: 150 Screen-Free Activities for Kids & Teens and 78 Random Acts of Kindness for Kids
Learning & homeschool (11 resources), including lesson plans on a variety of topics for one or many kids and 30 full-color quotes graphics from children's literature
Marriage (18 resources), including The Healthy Marriage Toolkit (100+ pages on its own!) and the full article called 90 Ways to Reconnect with Your Husband
Holidays & celebrations (17 resources), including How to Celebrate Advent with a Jesse Tree and all the Easter, Christmas, and New Year's scavenger hunts for kids, tweens, and teens that I've ever created
Physical & mental health (14 resources), including 12 Tips for Stress-Free Living, my best Self Discovery Journal, and several beautiful sets of positive affirmations
Hobbies & crafts (5 resources), including the 2020 Feels Like Home Reading Challenge
Planning & goal setting (18 resources), including the entire Live in the Light Life Planner
Finances (1 resources, 2 more coming soon), including 25 Simple Steps to Make Money Blogging
This collection is worth well over $500 if you purchased everything individually, PLUS you have the ability to request brand new printables on whatever you need! That's something that only FLH Printable Vault members get!
Frequently Asked Questions
How long will I have access to the vault?
How does lifetime access sound? Your one-time purchase gives you unlimited access to the vault for as long as you like - across any and all devices you own. Plus, you'll get access to all new printables as they are released into the vault.
What's not included in the vault?
The Printable Vault includes all of the printable resources that are currently available at Feels Like Home Blog. The Printable Vault does not include any current or future membership programs or courses. It is a complete collection of practical, printable resources that you can put into use right away.
I don't have a printer. Can I use these PDFs digitally?
Absolutely! All of the printables can be used as digital files as well. Many of my customers like to use these on the Good Notes app, so they can write right on the "page," just as if it had been printed out.
How do I print these files?
These printables are digital PDF files that are meant to be downloaded to your computer and printed at home. You'll get instant access and can start printing immediately! If you'd rather send them out to be printed, you can send them to your local office supply store or my favorite, the Homeschool Printing Company (link in the vault or you can Google them)! I include a print release for you as well.
Can I print these for my friend, client, or church family?
When you purchase access to the FLH Printable Vault, you are entitled to the printables for your personal use only. You can print as many as you want, as many times as you want for yourself and those in your immediate household. If you have a friend, client, extended family member, or church parishoner who would like to use these printables, she will need to purchase her own access to the Printable Vault, just like you did. Please respect my copyright and hard work and don't share the files or the printables outside your own home.
Can I make a request?
Of course! I've included a form that you can fill out anytime you have an idea for a new printable or printable kit to be created. I will be adding to the vault on a regular basis and will try my best to get every request into the lineup.
What size are the printables?
Every printable in the vault is designed to be printed on standard 8.5" x 11" paper. They can also be printed half size to save paper and ink. Printing instructions are included in the vault.
Can I get a refund if I change my mind?
Because of the nature of digital content, this resource cannot be returned once viewed or accessed. I will NOT issue refunds for the Printable Vault.
Ready to get it together now and for good?
Get instant access below!